The Rembrandt Hotel: Eating and After Eating
This blog has three parts:
I: buildings and personalities
II: The Rembrandt Hotel and what to do after you've eaten food.
III:  The Rembrandt Hotel and food.
One hears comments like "the spirit of the place," something I never thought about until we bought our house on Quinby ave. in Wooster—or perhaps I should say until we didn't buy the house.  There were, it was true, a lot of troubles with negotiations, as one owner would tell us one thing, like, "Oh yes, we don't want any of the fixtures, so we'll leave you the stove, the chandeliers, everything else," and then his spouse would say, "actually we'll probably take everything", and the lesson is "always use a real estate agency".  After awhile it became clear that one owner wanted to sell the house, while his didn't—she had just lived in the house too long, about twenty-five years.  In the end negotiations broke down, although we did eventually buy the house a year later.
There is, I think, a spirit of the place.  Whether it is the spirit of the baby who died there in the 50's (I doubt it—she probably headed straight to heaven), I began to think that the house had been very comfortable with its previous inhabitants and  just wasn't ready to be sold.
One other example: we rented a house in Hudson, Ohio to be near Charles during his first year in boarding school (the story is much more complicated than that, but I'll spare you).  The house was owned in the 19th century by the fiery abolitionist John Brown's father (John Brown never lived there, but did probably visit.)  It's a lovely, neglected, sprawling white frame house in the middle of a busy area, but you turn into the driveway and suddenly you're in an isolated nook where deer like to come and munch on the weeds that have taken over the yard and a woodchuck goes scurrying into the brush whenever you drive up.  When we were moving out, the housekeeper asked, "Does the house have ghosts?  Weren't you scared to spend the night by yourself?"  I answered, "I did at first, but the house has a peaceful feeling; it's like a very nice spirit governs it."  I had heard that the previous owner took wonderful care of the house, and the house is a bit like the lovely, sweet dog that has been neglected by the present owner, but is still very friendly to anyone who comes by.
*  *  *
The Rembrandt Hotel:  I don't know if there was a spirit to the place, but there was definitely  character to the place—a character and personality that came out of a combination of the many different people who owned, managed, worked in it and stayed in it, along with the pride and stubbornness of a building that had survived, pretty much intact, from the war.
But it's main personality was that, as my mother put it, It was very Edwardian, at least Victorian, and I imagine it as some sort of stout, proper, and slightly snobbish butler for an upper middle class family—but with a good sense of humor–trying hard to adapt to the needs of post war tourists and struggling to keep up appearances during difficult financial times.
It was indeed of a Victorian origin, if not necessarily personality.  According to "londonhotelsite.com" the hotel "opened in the late 19th century as luxury accommodation especially for clients visiting Harrods department store."  Given Anisa's fondness for Harrod's, it was definitely a well-chosen spot.  Maria, at least thought so, since she adds that it had the advantage of being "near the monument to Albert" and, hence right at Hyde Park, a place where "we took long walks."  One particularly famous walk will be the subject of the next blog.
It still exists as a four star hotel—which it probably was then—in Knightsbridge.  It's quite close to the corner of Old Brompton road and Cromwell road.  As my mother put it: It was a very nice place.  It was near the monument to Albert.  We took huge walks around there.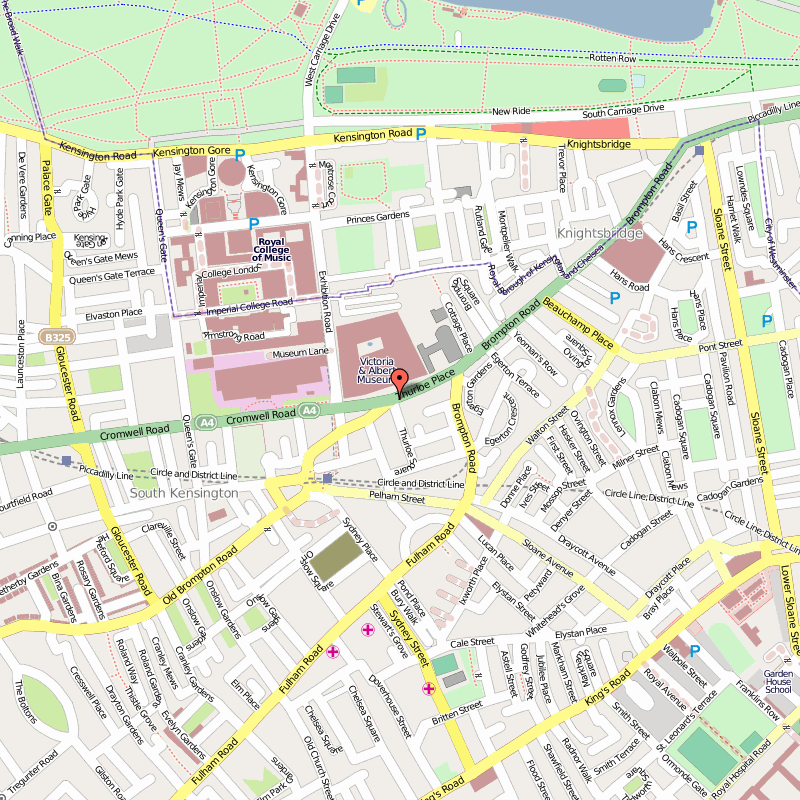 Location of the Rembrandt Hotel in Knightsbridge
 (http://www.travelpod.com/hotel/The_Rembrandt-London.html)
Last year, on my way back to the Putney hotel from a wonderful dinner at Zaika—unknowingly I was close to the Rembrandt Hotel (the restaurant is at the corner of Kensington rd. and Kensington High st.), I took an evening walk down Kensington High st., then thought I could walk to the tube station going down King's Road by simply turning left.  I forgot for a moment that I was neither in Washington D.C. nor New York City, nor Paris.  Instead, I was in London, a city whose roads had been determined by such things as a boulder in the road (road curves away in one direction), an open sewer (road curves the other direction), a rich man's property (road curves again).  The result is that I found myself going southwest on Cromwell road—a road I had not been familiar with.  Today—and probably then—Cromwell is the tourist hotel road that interrupts the more quiet and elegant streets in Kensington and Knightsbridge.  Cromwell Road is noisy, loud, full of lights, and full of hotels that look just like the Rembrandt Hotel.  Somehow I did find myself back, and snuggled into my room at the Putney Hotel.
***
It is now time for one of the most famous stories from the Europe trip; it goes something like this.
Preface:

2011: Leaving Heathrow in Tala's car, one of the first things Anisa said was: "In London I stayed at the Rembrandt Hotel," to which I responded, "The hotel with the chamberpot?"  Anissa replied "Oh yes, Joan and the chamberpot."
1949: Anisa arrives in London shortly after the other travelers arrived.  Emerging from the taxi that took her from Heathrow airport to the Rembrandt Hotel Anisa walked into the room she would be sharing with Joan, and "I saw Joan washing her hand on this old-fashioned …"
Terry: "Bowl?  Ewer, I think."
Tala: "Yes"
Slight Pause to Introduce Continental Cans
(www.amazon.com)

There is a book, published in 1960, that fascinated me as a child.  Called Continental Cans Etc…, A Tourist's Guide to Continental Plumbing, it sat decorously in one of the many elegant wooden bookshelves in my parents' den. Along with Charles Addams Cartoons, it was the book I probably turned to most–an illustrated series of cartoons that depicted the many challenges of European plumbing systems along with tongue-in-cheek suggestions for what American tourists could do about them.  One section was on perhaps the most puzzling item for many Americans—the bidet.  Continental Cans suggested all sorts of uses for a bidet, including filling it with ice and sticking champagne bottles in it for guests at a party.
Joan, it appears, thought just like the authors of Continental Cans.  In fact the cover picture kind of looks like her.
*   *   *
One thing is clear.  Joan was taken with all things that were traditionally European and certainly not typically American, including the bustling outdoor food markets and classically European artifacts.   In the Rembrandt Hotel she discovered one such object–the chamber pot.  The Rembrandt Hotel was a very European hotel; in other words, it had not yet fully succumbed to the seductions of American-type plumbing.  Hence the ewer and bowl for washing one's face and hands in the hotel rooms, as well as the fact that, in most rooms, the bathroom was down the hall.  Well aware of this fact, Mrs. de Zaldo had specifically requested two hotel rooms with toilets, but when the travelers arrived, they discovered that only Joan and Anisa had this set up, while she and Maria had to, as Maria put it, wander  "all the way down the hall."  For those who didn't feel able to grope their way to the bathroom at 3:00 a.m., the hotel conveniently provided a chamberpot, discreetly tucked away in the night table.
Anisa, Carmen, and Maria were all very well aware of chamberpots and their uses, but for Joan—brought up in a world of private bathrooms with toilets and modern American plumbing, it was a fascinating relic of Merry Olde England.  The chamber pot connoted ideas like "kitsch" "old world" and "how quaint".  Clearly, she had stayed in a more luxurious hotel when she had accompanied her father to Europe in 1946.
Here is Maria's telling of the story:
Joan opened the night table and out comes a chamber pot.
"Carmen!  Look, look!  Oh look, a chamberpot; how quaint."  Joan thought the chamberpot was hilarious.
(Carmen's response): "Oh no, it is not quaint at all.  I grew up with chamber pots; they are not quaint."
Soon after she bought some cherries at the market and presented them to us in a chamber pot.
Carmen: "Joan, do you know what has been in that chamber pot?"
Joan: "I know, but I washed it."
But all there was in the room was an old-fashioned ewer and basin.
Carmen: "Ay Joan, I cannot eat cherries that are in a chamberpot!"
Joan: "But Mrs. de  Zaldo, I washed it; I washed it clean!"
The result, according to my mother is that "Abuelita refused to eat the cherries."
The good news is that, except for the occasional dependence on chamberpots, the plumbing worked quite well at the Rembrandt Hotel.
The Rembrandt and Food:
Before the chamber pot, there is the food.  As it was with all places that served a traditional English breakfasts, breakfast at The Rembrandt was memorable, especially if you were not English.  Here is Anissa's account of the breakfast:
We always had a good breakfast in the hotel, which was part of the price that we paid, even if they gave us kippers, which we didn't like, but the toast was always very good, and food in England was still much better than in '46 when I went.  No coupons—nothing; it was much easier; everything was more affluent.
I saw many Iraqi friends of ours [in London].  I took Joan, Maria, and Mrs. de Zaldo to see them, and the other Iraqi friends would come to see me while we were having breakfast.  Doctora Amina and Doctor Asghik.  We would be at breakfast—with Joan and Maria–and they would come to visit me.  It was a very nice time.
For my mother the breakfast was equally memorable:
 And then the other thing was that breakfast was included, and mother (Carmen) didn't get up for breakfast, but Joan and I went down, and it was the smell of the kippers.
Joan, after smelling the kippers: "I'm going to go up and have breakfast with your mother in her room.